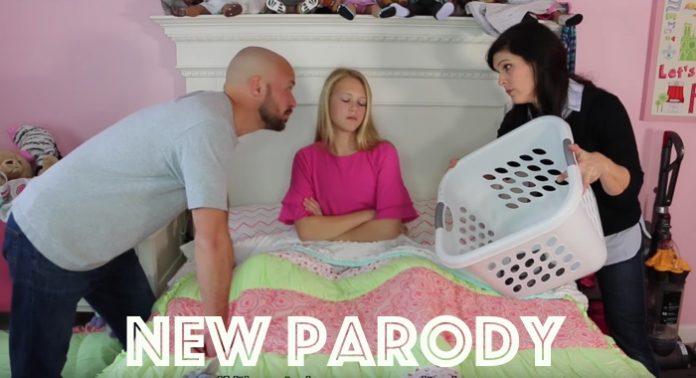 That's right! It's time for a new MUSIC PARODY! You know my family and I have so much fun making these YouTube parodies and the "New Rules" song by Dua Lipa was one of our most requested.
Since we didn't really know what Dua Lipa was saying in the song when she sang "new rules" until we looked up the lyrics, it always sounded like "I've got moves, I've got moves". Yeah, you know when you swear you know the words to a song and you've been singing it wrong all along. It was like that.
So, we knew we had to make part of the song "I've got moves, I've got moves" and include the Floss. Yes, the Backpack Kid's floss dance makes an appearance in this video. 🙂 We also made the song about cleaning your room because one of the things I hate the most is cleaning my room. And you know what my parents complain to me the most about? Cleaning my room. It only made sense to make this parody all about that. Plus, the words "clean your room" just fit with the song.
My dad makes another cameo in this video sporting his "Greatest Dad in the World" shirt. Yes, we have him wear that shirt in every parody on purpose as a joke. When my mom writes the parody lyrics (with my help!), we always make dad the bad guy. He loves it.
My mom also makes an appearance in this parody. She is usually behind the camera directly us what to do but this time, we got her involved. It's a whole family affair.
So without further adieu, here is our newest parody…